Man Utd Fans Rage As Giroud Pips Mkhitaryan To Puskas Nomination With Near-Identical Goal
Manchester United fans have been left fuming as Henrikh Mkhitaryan's scorpion kick goal against Sunderland failed to make the Fifa Puskas Award nominations list despite Olivier Giroud's similar strike for Arsenal against Crystal Palace made it on.
The Armenia international showed remarkable skill and improvisation to acrobatically find the back of the net in a 3-1 win over the Black Cats on Boxing Day last year, after the nominations for 2016 had already come in.
Mohd Faiz Subri won last year's edition of the prize, and was presented with the trophy at the awards ceremony in January.
While Mkhitaryan's goal came a little late for it to earn a nomination last year, it is not clear why it has failed to make it among this year's contenders, which judge strikes from the last twelve months of football around the world.
Puskas Award criteria
It should be a beautiful goal (subjective — the spread of goals should include long-range shots, team goals, overhead kicks, individual plays, etc.).
It should be awarded "without distinction of championship, gender or nationality".
It should not be the result of luck, mistakes, deflection by another player or the player in a offside position.
It should support fair play, i.e. the player should not have behaved badly in the game or have been charged with doping, for example.
Neymar's goal for Barcelona in a 3-0 win over Villarreal was one of the nominees for the 2016 prize, despite coming in November 2015, so it may be that Fifa have judged Mkhitaryan's not to fit their official criteria.
The former Borussia Dortmund man was seen to be offside when the cross came in for him to score, though the match officials missed it at the time and awarded the goal.
Mkhitaryan was clearly offside in the build-up to his stunning finish.
Just five days later, Giroud scored a remarkably similar effort in Arsenal's 2-0 win over Palace, though there was no question mark over whether that one was right to stand.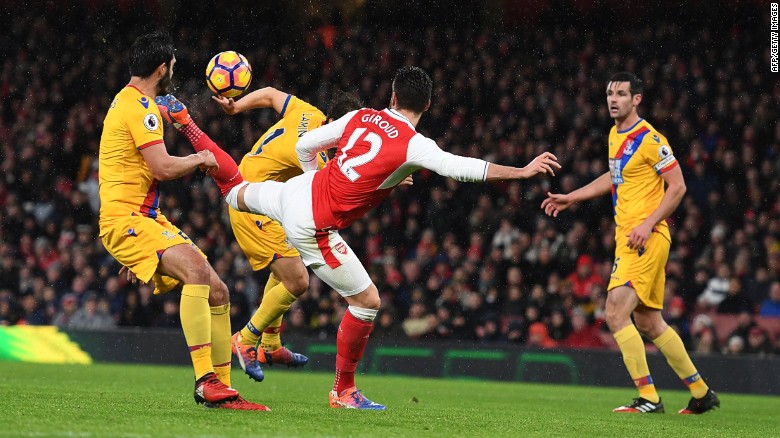 United fans aren't having any of it, however, and have been venting their frustrations on Twitter.
Giroud got selected for Puskas award but not Mkhitaryan's goal. I see.

— Fumz (@Foo_meee) September 22, 2017


CHECK THIS OUT
by
How Nigerians Are Making $350 Per Day In Calabar!
Investing $350/Day Has Aided 1,000's Of Nigerians To Get Wealthy
Mkhitaryan v Sunderland should've been in with a shout even if it was off https://t.co/vngxVnbhiQ

— SB (@SBMartial) September 22, 2017

I'm not having it even more that mkhitaryan's scorpion kick didn't make it ahead of Giroud's. https://t.co/sMKXOJNiCH

— Ziggy (@siji_o) September 22, 2017

How on earth do Fifa nominate Giroud's goal and not Mkhitaryan's? That's bullshit. #PuskasAward

— Lunga Biyela (@KingBiyela) September 22, 2017

Where's the scorpion king Henrikh Mkhitaryan? https://t.co/jx8zrZXu1x

— torties man utd (@IamEdoBoy1) September 22, 2017

WHERE IS MKHITARYAN UNITED FANS? https://t.co/IUdkjLFlPq

— Ayub (@SweeperKeeper1) September 22, 2017

Lol picked Giroud's goal over Mkhitaryan's? https://t.co/xgnYQ9GZcU

— na. (@ENKAY10_) September 22, 2017


The full list of nominees for this year's prize is as follows: Kevin-Prince Boateng (Villareal vs Las Palmas), Alejandro Camargo (Universidad de Concepcion vs O'Higgins), Deyna Castellanos (Venezuela vs Cameroon), Moussa Dembele (St Johnstone vs Celtic), Olivier Giroud (Arsenal vs Crystal Palace), Aviles Hurtado (Atlas vs Tijuana Xolos), Mario Mandzukic (Juventus vs Real Madrid), Oscarine Masuluke (Baroka vs Orlando Pirates), Nemanja Matic (Chelsea vs Tottenham), Jordi Mboula (Barcelona U18s vs Borussia Dortmund U18s)
Who was the better Scorpion King? Giroud Or Mkhitaryan?